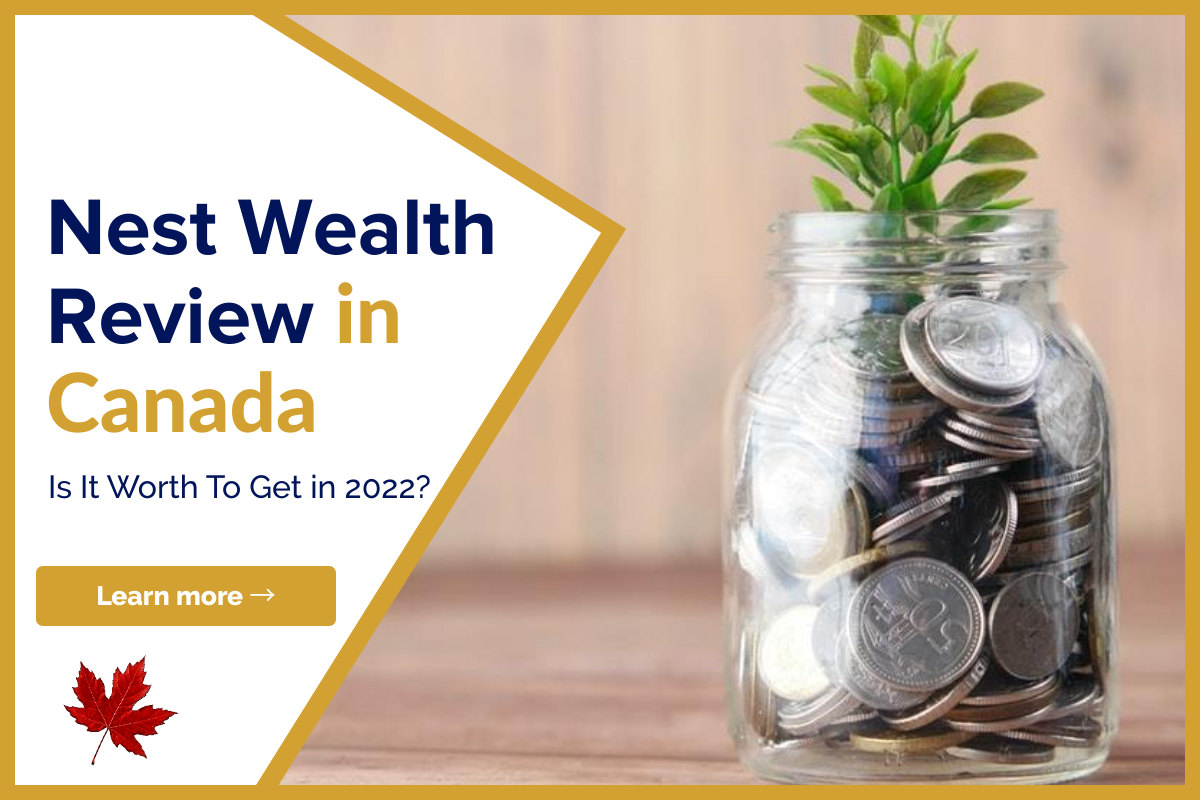 Nest Wealth Review in Canada
Now you can listen to our blog post, "Nest Wealth Review in Canada" while on the go.
Nest Wealth in Canada is a family-owned Canadian wealth management firm. The company, formerly known as Nest Wealth Financial, is independent of all banks and insurance companies. Nest Wealth Financial provides services such as investment advice, portfolio design, portfolio management, and estate planning.
What Is Nest Wealth and How Does It Work?
Nest Wealth was founded in 2014 by a group of experts with the goal of creating a financial technology company that is associated with Metroland Media and National Bank, both of whom have a minority share in the company.
Nest Wealth's assumption is to use low-cost diversified ETF portfolios based on Modern Portfolio Theory, which employs a systematic mathematical framework to maximise return for a given degree of risk. It automates a portion of the investing process and relies on passive investing strategies to make the entire process easier. Furthermore, the platform's algorithms assist in maximising returns while minimising risk, resulting in a well-rounded investment portfolio that can help develop wealth over time.
Establishing a Nest Wealth Account
Nest Wealth will ask you to fill out a simple questionnaire to begin the signup process, which will help them better understand your financial goals. After that, you'll have to go through a series of steps to finish the signup process.
1st Step
Fill out all of the required personal and financial information on their web form. You'll also need to upload copies of relevant documents at this time, such as…
Social Security Number
Licence to drive
Check is void.
2nd Step
Your responses will be reviewed by Nest Wealth, and the process of creating your account will begin. When you engage with Nest Wealth, your money will be housed in a custodial account with one of the following institutions:…
Fidelity Clearing Canada ULC (FCC) or
National Bank Independent Network (NBIN)
3rd step
The final step is to fund your account using one of the ways listed below…
Direct deposit
Deposit through Bill Pay
Transfer from another brokerage account
How Individualized Are Investment Portfolios?
As previously stated, you will be assigned a professional account manager who will go over your options with you and collect as much pertinent financial information as possible in order to develop a fully customised portfolio. Your risk tolerance, financial ambitions, and existing financial condition will all play a role.
Nest Wealth will monitor and rebalance your investment portfolio on your behalf once it's all set up. Nest Wealth diversifies investment portfolios by combining seven distinct ETFs from seven different asset groups. You'll own a certain percentage of each product based on your risk score. ETFs are a low-cost approach to diversifying your investment portfolio and gaining exposure to a variety of asset classes.
How much does it cost to invest in Nest Wealth?
The following is Nest Wealth's standard charge structure:
$75,000 or less: $20/month
From $75,000 to $150,000: $40/month
Over $150,000: $80/month
Nest Wealth's two custodians, National Bank Independent Network and Fidelity Clearing Canada, will collect fees as well. Following are the custodian fees:
The trading Fee for FCC is $7.99/trade and for NBIN $9.99/trade
The annual Account Fee (registered account) for FCC is $36 and for NBIN it is $100
Annual Account Fee (non-registered account) for FCC is $25 and for NBIN is $75
The Advantages of Selecting Nest Wealth
Nest Wealth is an excellent online investment platform for a variety of reasons:
This is a fee-based service: You'll be charged a flat fee rather than a proportion of your investment assets, which makes your payments much more predictable.
The account manager is assigned: You'll have immediate access to an account manager if you have a question regarding your investments.
Fees for trading are capped: You'll never pay more than $100 in trading commissions. Everything above that amount will be covered by Nest Wealth.
The model combines a Robo-advisor and a human advisor: Nest Wealth combines the simplicity and cost-effectiveness of a Robo-advisor with the personalised service of a human advisor.
Average MERs are low: The average MER for balanced portfolios is 0.13 per cent, which is lower than other investment platforms.
A platform that is simple to use: The Nest Wealth platform is simple to use and manage, and it gives you a clear picture of your progress toward your objectives.
Customer service is outstanding: Your account manager will be reachable by phone or email.
Rebalancing is done automatically: To keep your funds growing while hedging against risk, your portfolio will be rebalanced automatically as needed.
ETFs with low fees: Investing has never been more affordable and accessible thanks to Nest Wealth.
Security. The Canadian Investor Protection Fund, which covers up to $1,000,000., protects Nest Wealth holdings.
Who Does Nest Wealth Work Best For?
Nest Wealth is suitable for investors at all levels of experience, from total beginners to seasoned investors. It is especially beneficial to newbie investors without a lot of initial cash because of the low costs, minimal investment capital requirements, and ease of having everything you need on your computer monitor or mobile device screen.
Nest Wealth is also ideal for investors who value having their investment portfolios monitored and changed automatically when market conditions change. Rather than working with a typical brokerage and paying exorbitant costs, Nest Wealth clients can benefit from lower fees while still receiving individualised advice and support.
Need Some Quick Cash? Let Lionsgate Financial Help!
Are you struggling with your financial needs and need some extra cash? Lionsgate can help. Just fill out the form below, letting us know all your cash or mortgage requirements and we will find the best lender for you. Amazing thing? The process is free and you can quit it at any time.
We have a team of experts that analyze your requirements and pick the best lender for you, with prudent advice.
Note: Please give your authentic information while completing the form below.
If you found this article helpful, please share it with someone you care about. Also, visit our blog to read similar helpful articles on finance, real estate, and getting mortgages.