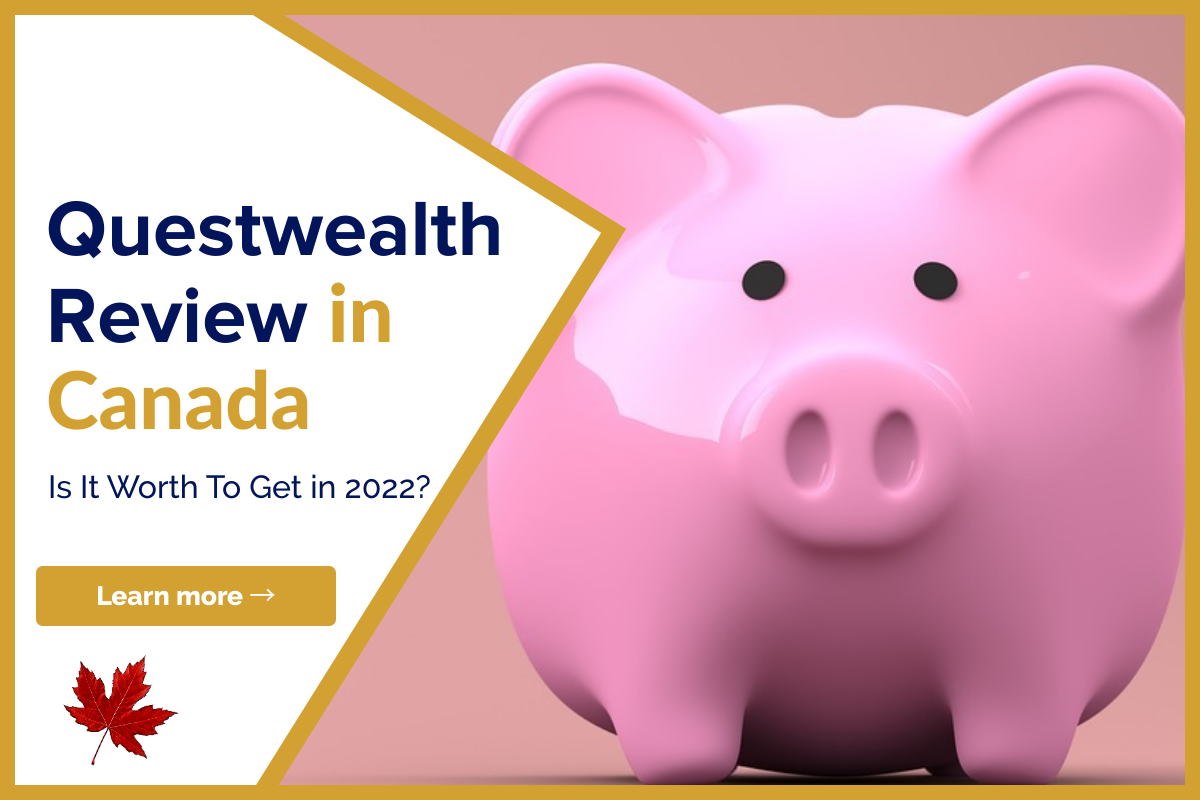 Questwealth Review in Canada in 2022
Now you can listen to our blog post, "Questwealth Review in Canada in 2022" while on the go.
Most Canadians are virtually oblivious to financial topics. They often confide: "I'm not good with numbers," or, "I don't like taking financial risks." But you need to take advantage of the opportunities and information available in your area of finance. Questwealth was invented with this exact purpose in mind, to make things a whole lot easier for you when it comes to investing.
What is the Function of Questwealth?
When it comes to investing with Questwealth, investors have a variety of options. There's the DIY self-directed investing option, in which you create your own investment portfolio using a self-directed account or have one created for you by professionals.
You handle your investments yourself with self-directed investing, which can save you a lot of money in fees. You can trade equities, bonds, precious metals, exchange-traded funds (ETFs), options, mutual funds, and GICs in this scenario. Account opening and closure costs are waived, commissions are extremely cheap, and ETFs can be purchased commission-free.
Read:
Your investments will be managed by Questrade's specialists with expert-backed Questwealth Portfolios. Instead of picking your own investments, you'll be asked a few questions about your financial goals and risk tolerance, and your assets will be carefully selected for you.
Your investment objectives are paired with cutting-edge technology, and you'll obtain a portfolio of exchange-traded funds (ETFs), which invest in the market similarly to mutual funds but with lower fees. The average mutual fund fee is 2.16 per cent, but you can pay a total fee of only 0.38 per cent if you invest in a low-cost mutual fund (which includes management fees and the MER of the ETF).
Questwealth is a Robo-advisor, but it does not solely rely on algorithms or automation to monitor and rebalance your account. Instead, your portfolio is managed for you by real people working behind the scenes.
You can start trading after you create an account and deposit $1,000 into it. You can trade and invest on the Questwealth website or through the Questwealth app, allowing you to buy, sell, and make changes on the fly.
Questwealth Features
Investment Options: Investors can use Questwealth to access any of the following investment options:
Options
Stocks
Bonds
Exchange-Traded Funds (ETFs)
Mutual Funds (MFs)
GICs
Equities
IPOs
Metals of Precious Value
Account Options: Investors can also put their money into:
RRSPs
RESPs
TFSAs
RIFs
LIFs
LIRAs
Access to data in real-time: You'll be trading with data that's being streamed in real-time.
Portfolios from Questwealth: This is Questrade's Robo-advisor, which will manage all of your investments and develop your investment portfolio based on your responses to a series of questions.
Investing with a conscience (SRI): There are also specific portfolios that focus on social responsibility for socially aware investors, such as social and corporate governance ETFs, low carbon ETFs, and Cleantech ETFs. You can put your money into businesses that align with your principles and have a beneficial impact on the world.
The IPO Centre: It is a non-profit organisation dedicated to promoting This research tool allows you to learn critical details about the most recent initial public offerings (IPOs) and then purchase the ones that catch your interest.
A trader who trades on a daily basis: This tool can assist you in identifying opportunities in the Canadian and US equity markets. This programme, which is powered by Recognia, uses pattern recognition to identify opportunities and then compares them to your investment objectives. Intraday Trader will notify you with charts and a description of what's going on when a target trade is triggered.
Reinvested Dividend: Dividends are automatically reinvested and portfolios are regularly rebalanced based on market circumstances, so you won't have to actively manage your investments.
Data from the market: Get free snap quotes for equities on North American stock exchanges, which provide real-time bids and ask prices.
Refer a Friend Program: Referring is a programme that allows you to earn money by referring friends. If you suggest a friend who establishes a Questrade account, you'll get a $25 bonus and $50 for every third referral.
App for trading: The Questrade mobile app allows you to make trading decisions and moves on the fly using your smartphone or tablet.
Deposits are made automatically: Set up automated deposits quickly and easily without needing to do so manually.
Customer Support: Questwealth offers customer service via phone, email, or virtual chat, which allows clients to connect with a person immediately during business hours (Monday to Friday, 8 AM to 8 PM).
What Is the Customizability of Investment Portfolios?
If you choose Questwealth Portfolios, you can anticipate a fully customised investment portfolio tailored to your specific needs, goals, and investing style. Your investment portfolio will be expertly designed to contain assets that are precisely diversified to match your financial goals and risk appetite.
Questwealth's algorithm will choose a portfolio for you from one of the following options based on your answers:
Aggressive: These portfolios are entirely made up of equities and are suitable for investors with a high level of risk aversion. The MER for this portfolio runs from 0.15 per cent to 0.23 per cent, and it also gives the best potential returns.
Growth: These portfolios are slightly less aggressive, with 80 per cent equities and 20 per cent fixed income. The MER varies between 0.14 and 0.22 per cent.
Balanced: This portfolio, which invests 60% in equity and 40% in fixed income and has an MER of 0.13 per cent to 0.20 per cent, is ideal for medium-risk investors.
Income: The Income Portfolio, which invests 60% in fixed income and 40% in equities, is the best option for those searching for a medium to low-risk investment. The MER varies between 0.12% and 0.17 per cent.
Conservative: The Conservative Portfolio, which invests 80% in fixed income and 20% in equity, is better suited for those with lower risk tolerance. The MER varies between 0.11 and 0.14 per cent.
Client feedback indicates that the weighting for the above portfolio alternatives has done a good job of balancing their demands and wants. Questwealth portfolios are designed for investors who want to take a passive approach to managing their investments; individuals who want to make regular transactions or have a more hands-on approach to their investments should utilise a self-directed investing account.
In terms of the historical performance of its numerous portfolios, Questwealth has a strong track record. Four of the five portfolio categories have a ten-year track record of success. On the Questwealth website, public data reflecting each portfolio's performance may be seen, offering complete transparency for both current and prospective clients.
What is the price of Questwealth?
When you invest with Questwealth, you will be charged in one of two ways. A 0.25 per cent management fee applies to accounts with a balance of up to $100,000, and a 0.20 per cent fee applies to accounts with a balance of more than $100,000. Portfolio setup, account rebalancing, and dividend reinvestment are all included in this cost.
For socially responsible investments, the management expense ratio (MER) of popular ETFs ranges from 0.17 per cent to 0.22 per cent and 0.21 per cent to 0.35 per cent. With Questwealth, a $1,000 investment in an ETF portfolio is required. To reduce capital gains taxes, investors with taxable accounts (as opposed to TFSA and RRSP accounts) can use Questwealth's free tax-loss harvesting option.
Transfer fees of up to $150 are waived when switching from another investing brokerage to Questwealth.
Should You Hire a Human Advisor or Use Questwealth?
When it comes to investing your hard-earned money, it's difficult to argue against the usage of a human advisor. After all, you want to be sure that everything you invest in maximises your profit potential while minimising your risk.
The amazing thing about Questwealth is that, while it is a Robo-advisor, it also has actual human advisors working behind the scenes to help you maximise your investment portfolio. With Questrade, you get the best of both worlds: Robo-advisors' cheap fees and ease, as well as excellent advice from real human advisors.
Need Some Quick Cash? Let Us Help!
Are you struggling with your financial needs and need some extra cash? Lionsgate can help. Just fill out the form below, letting us know all your cash or mortgage requirements and we will find the best lender for you. Amazing thing? The process is free and you can quit it at any time.
We have a team of experts that analyze your requirements and pick the best lender for you, with prudent advice.
Note: Please give your authentic information while completing the form below.
If you found this article helpful, please share it with someone you care about. Also, visit our blog to read similar helpful articles on finance, real estate, and getting mortgages.