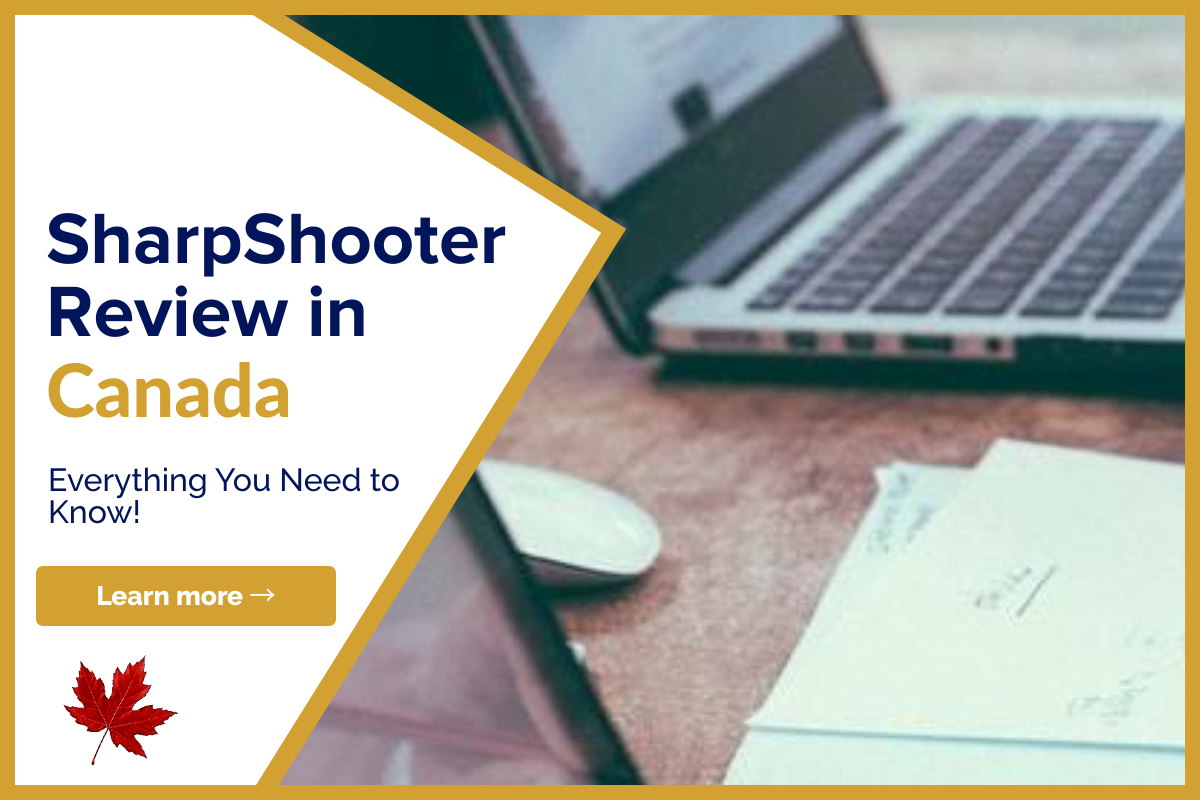 SharpShooter Review: Everything You Need to Know
Now you can listen to our blog post, "Sharpshooter Review: Everything You Need to Know" while on the go.
Starting a small business requires a lot of time and means to venture into. Having small support throughout your venture can be very helpful. If you are looking for such support in Canada, then this SharpShooter guide is for you. SharpShooter Funding is a company that provides funding while offering mentorship and other services to small businesses. Continue reading to learn more about Sharpshooter Funding.
What is Sharpshooter Funding?
Sharpshooter Funding is a company that offers cash advances to businesses. The application process with Sharpshooter Funding is very easy, and they really go above and beyond to explain things to you. Sharpshooter Funding is the best place to go if you need money quickly because they offer loans for all sorts of situations and they get you the cash fast.
Sharpshooter Funding is an application process that can be completed in five minutes. It allows for quick funding, which is available 24 hours a day, 365 days a year. Moreover, there are no credit checks or formal requirements required to apply for this loan. You only need a computer and an internet connection to qualify on your own.
How to Get Sharpshooter Funding?
It depends on what kind of business you are running and how much annual revenue it is expected to generate. It can sometimes be difficult to qualify for financing with banks and credit unions. However, with Sharpshooter Funding, you can qualify for financing easily. It caters to potential clients who operate in many different industries, including but not limited to:
Before applying, keep in mind that qualifying for business funding may require a few more steps than applying for traditional business financing directly through a bank. However, if you are already a business owner, you can check out Sharpshooter's pre-approval form, which only takes a few minutes to fill out.
SharpShooter Application Process
One great advantage Sharpshooter offers is its online application process. With this, every Canadian business owner can apply from anywhere in the country and from the comfort of their own home when they have the time.
If you are looking to get pre-approved, there are a few details you will have to fill out. This includes your
You will be required to submit some information regarding your business as well. This includes:
operation's average monthly revenue
Your company's launch date
The amount of funding needed
Money and time are required.
If you are applying for SharpShooter's services like start-up funding, you may have to provide copies of specific documents, such as your:
Void cheque or pre-authorized debit form
Articles of Incorporation
What Financing Options Does SharpShooter Offer?
SharpShooter provides a variety of company funding options. Some of their more well-known items include, but are not limited to:
Working Capital: A working capital loan is a lump sum of money that you can use to finance your short-term business goals, such as small investments, payroll bonuses, and new inventory, and is one of SharpShooter's key options. In this situation, you can borrow up to $300,000 with a payback term of 6 to 24 months and weekly or daily instalments.
Unsecured Business Funding: SharpShooter provides unsecured business funding options such as short- and long-term loans, as well as business lines of credit. The key advantage is that approval does not require any collateral. Your assets (vehicles, buildings, etc.) will not be at risk if you default on your payments, despite the fact that this may result in higher interest rates.
Merchant Card Processing: Merchant terminals are ideal for businesses that accept debit and credit card transactions since they improve cash flow, provide you with direct access to working capital, and make your operation more convenient.
Commercial Mortgage: A commercial mortgage can be used to fund any building or other real estate property that your company owns. Fortunately, these mortgages are available to people with bad credit.
Start-up Funding: SharpShooter does not only assist established businesses; it also funds start-ups. They can also establish new enterprises with working capital loans of up to $150,000 with payback durations ranging from 6 months to 4 years and interest rates ranging from 7.9% to 19.9%. Company credit cards, small business grants, BDC microloans, and innovative crowdfunding are some of the other start-up financing options available. You can even borrow money to buy business equipment and then use it as collateral for a secured loan with better terms.
What sets Sharpshooter Funding apart from its competitors?
SharpShooter Funding's key selling feature is that they serve clients from all walks of life, in any business, across Canada. Not to mention the extensive range of company finance options available. Among their other advantages are:
Loans ranging from $1,000 to $300,000 can be approved on the same day.
Interest rates that are adjustable and competitive
Banks, credit unions, and government lenders have fewer criteria.
Approval is mostly dependent on the viability of your company rather than its credit score.
Funding takes 1–3 business days (for certain products).
Canadian businesses can get up to $250,000 in investment over a five-year period.
Does SharpShooter Funding Approve Bad Credit Borrowers?
Borrowers with terrible credit have a credit score of less than 600, which is typically the result of missed payments, financial delinquencies (consumer proposals, bankruptcy, etc.), or other debt-related issues. This is a red flag for many banks and other traditional lenders, who will reject your application, limit your credit, or charge you higher interest rates if you don't keep up with your payments. SharpShooter Funding has a variety of financing options for negative credit business owners. Many of their services, in fact, do not require you to have a minimum credit score.
The Bottom Line
At Lionsgate, we specialize in helping people get the extra cash they need, obtain funding for private mortgages, as well as for other real estate transactions. If you are looking to buy land in Canada, get a mortgage or apply for a loan, fill out the form below. Or, You can leave us a message and we will try to connect you with local lenders and sources that best meet your needs.
If you found this article helpful, please share it on your timeline and with someone you care about. Also, visit our blog to read similar helpful articles on finance, real estate, and getting mortgages.