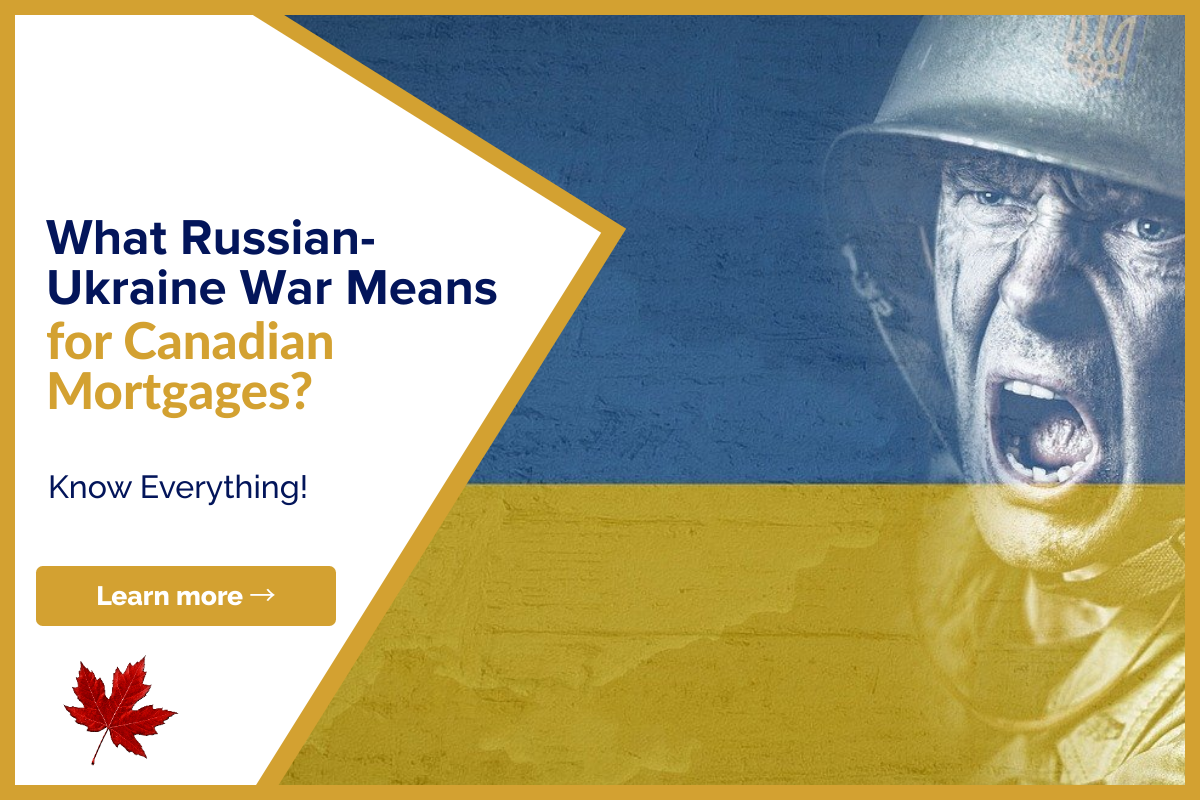 What Russian-Ukraine War Means for Canadian Mortgages
Now you can listen to our blog post, "What the Ukrainian Russian War means for Canadian Mortgages" while on the go.
With the Russia-Ukraine conflict longing, you may already be wondering how it is going to affect the housing market in Canada. If yes, then continue reading as Lionsgate Financial has it covered for you.
The short answer to this is that the war is not good for Canadian real estate. That is if you are the sort who is hoping that the market will get even hotter than it is. Remember the 2014 oil price crash and the recent COVID-19 pandemic? In both situations, the rate cuts stoked. As things stand now, the conflict is expected to raise more concern about inflation than growth, heightening risks to the rating outlook.

In simple words, if there was any chance that the Bank of Canada will ease down it's anticipated 2022 to 2023 series of increases in its interest-setting rates, that would have made mortgages more expensive, but that possibility has now evaporated.
The BoC does not see this war as an obstacle to tightening, as it pulled the trigger this week. And it also plans to hold tight to the normalization path for the year. This means, that raising the interest rate is a way of reining in inflation or the growth in prices of goods and services.
The inflation rate was at 5.1 per cent in January. Which is higher than the Bank of Canada's target of two per cent. In its March 2 rate announcement, the central bank said that the conflict in Ukraine is putting upward pressure on the prices for both energy and food-related commodities. Also, inflation is now expected to be higher in the near term than projected in January.
According to The Economist, it is hard to predict the housing market becoming more feverish than it is now.
While rising interest rates may slow down the market in big markets like Toronto and Vancouver, some regional markets may come out ahead even in a rising interest-rate climate. There are the energy and commodity-producing provinces of Alberta, Newfoundland, Saskatchewan and Labrador. Not only did they largely avoid the pandemic explosion in house prices but remained highly affordable and likely to withstand higher rates. They benefited from the soaring price of oil, natural gas, wheat and potash.
With interest rates starting to rise in the backdrop of the Russia-Ukraine war, it is suggested that Canada's housing market may face its biggest test in recent years. It is likely that investors, with the fastest-growing share of buyers, will be the first to back off. However, the elevated housing prices will continue to pose affordability problems. If this continues, the ownership will become a distant dream only.
Needless to mention that the war is an unwelcome guest at the inflation table as global supply chains and commodity prices are touching their peaks. If the conflict escalates to new levels and countries, it will depress confidence and financial conditions even more. The hit to the economy can also dominate concerns about inflation and spur a slower tightening cadence.
Looking for Mortgages & Loan Options in Canada? Lionsgate Financial Can Help!
At Lionsgate, we specialize in helping people get the extra cash they need, obtain funding for private mortgages, as well as for other real estate transactions. If you are looking to buy land in Canada, get a mortgage or apply for a loan, fill out the form below. Or, You can leave us a message and we will try to connect you with local lenders and sources that best meet your needs.
If you found this article helpful, please share it on your timeline and with someone you care about. Also, visit our blog to read similar helpful articles on finance, real estate, and getting mortgages.