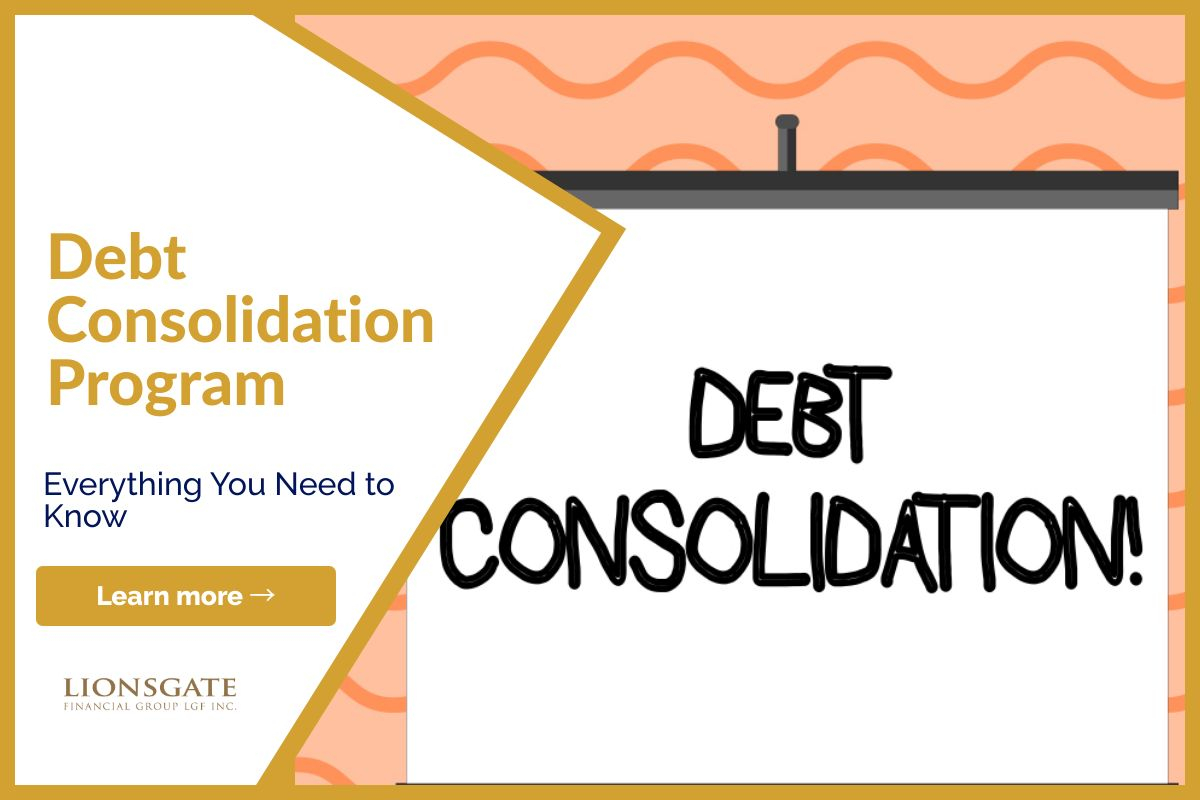 Debt Consolidation Programs in Canada
Now, you can listen to our blog, "Debt Consolidation Programs in Canada" while on the go.
Are you struggling with a lot of debt? Do you pay very high monthly payments? Is your debt getting out of hand and no solution is in sight? Well, a debt consolidation program can be the solution you need.
Don't know what debt consolidation is? No worries! we are here to provide you with a basic understanding of debt consolidation that will allow you to take full advantage of it. With debt consolidation, you can hopefully achieve all your goals. This guide will include everything you must expect when enrolled in a debt consolidation program before making your final decision.

But let's first understand, what debt consolidation is and how it is different from debt management.
Debt Consolidation Vs Debt Management
You might have already heard about both the debt consolidation programs and debt management while searching for debt relief options. They are, basically, the same and are often used interchangeably depending on who you are talking to.
A debt management program, to be specific, is a type of debt consolidation. Therefore, we refer to this service as a debt consolidation program.
How does Debt Consolidation Program work?
Unlike consumer proposals or bankruptcy, a debt consolidation program is not a legal process. Rather, you will work with a certified credit counselor who will assist you through the entire process. Your main objective will be to provide them with as much information about your finances as possible. Remember that providing honest information is mandatory. The more information they have and the more accurate it is, the better they will be able to help you. Here is how a counselor will help you exactly:
Figure out how much debt you have
Create a budget that covers all your debt, expenses, and income
Negotiate with your creditors and come to an agreement on a monthly payment
Provide you with the tools and knowledge to deal with any future financial issues
The purpose of a debt consolidation program is to consolidate your eligible debts into a more manageable monthly payment. The credit counselor who you work with all negotiate, on your behalf, with your creditors and lenders in hopes of reducing your interest rates. Also, it will help you eliminate any penalties you might incur or have already incurred.
This way you can continue to afford all the necessities of your life while working toward your goal of being debt-free. In most cases, debtors are able to get out of debt quicker and save money on interest charges while making more manageable monthly payments.
What Types of Debt can be Consolidated with a Debt Consolidation Program?
A debt consolidation program is one of the most suitable options available for many consumers who struggle to keep up with the cost of being in debt. However, it is important to mention here that not all types of debt can be included in a debt consolidation program.
To make things more clear, here is a list of some debts that can be consolidated.
1. Credit Card Debt
Credit card debt is an unsecured type of debt. This means it is eligible to be included in a debt consolidation program. A credit card debt is one of the most common reasons why consumers choose this form of debt relief.
2. Unsecured Personal Loan Debt
Personal loans that are unsecured can also be included in a debt consolidation program. An unsecured loan is a loan that did not have to put up any form of collateral like a vehicle or anything.
3. Auto Repossession Debt
If your vehicle has been repossessed due to the reason that you were unable to keep up with the payments, you may be able to include that debt in the debt consolidation program.
4. Non-Government Student Loan Debt
Do you have private or non-governmental insured student loan debt and that is causing you too much financial stress? Enter into a debt consolidation program as it is the only feasible option for you.
5. Medical Bill Debt
You cannot consolidate all your medical bills, but some have this privilege. If medical bills are the only reason why you are thinking debt consolidation, that we will recommend you to seek the advice of a credit counselor first.
6. Past-Due Cell Phone/Utility Bills
If you have a past-due cell phone or utility bill and you are no longer using the same service; it is possible that you can include that debt in a debt consolidation program.
Why You Should Consolidate Your Debt?
A debt consolidation program is a savior for those who cannot afford to keep up with their monthly payments. It enables you to work toward paying off your debts and regain some control over your finances. Here are some of the most notable benefits of joining a consolidation program to let you realize why you should go for it.
Reduce Your Monthly Debt Payments
Depending on your financial situation and how much debt you owe, you can reduce as much as 50% of it. This reduction in interest means that more of your money will be going toward paying off the principal rather than the interest that is accumulating.
One Easy and Affordable Payment
You will have to only worry about making one monthly payment. You will make your payment to the credit counselor with who you are working. They will then distribute the money accordingly.
Certain Penalties and Fee Will be Waived
When you enroll in a debt consolidation program, your credit counselor takes control of the debt and negotiates with creditors on your behalf. With this, you get certain penalties removed, fees reduced and charges waived.
Avoids Black Marks on Your Credit History
One of the best things about a debt consolidation program is that you can avoid the more serious financial issue of bankruptcy. With a debt consolidation program, you are still paying off your unsecured debt in full which means your credit history won't be damaged.
You May Also Like: No Credit Check Loans in Canada
The Bottom Line
A debt consolidation program is a lifesaver and can help you start a new debt-free life. The first step is always scary, but remember that everything will fall in order once you start. If you stick to the program and put in your effort to become debt-free, you will be able to achieve all your goals. Take this article as a guide and work hard to get rid of your debt and live a debt-free life.
At Lionsgate, we specialize in helping people obtain funding private mortgages for land purchases as well as for other real estate transactions. If you are looking to buy land in Canada, get a mortgage, apply for a loan o consolidate your debt, leave us a message and we will try to connect you with local realtors and sources for financing.