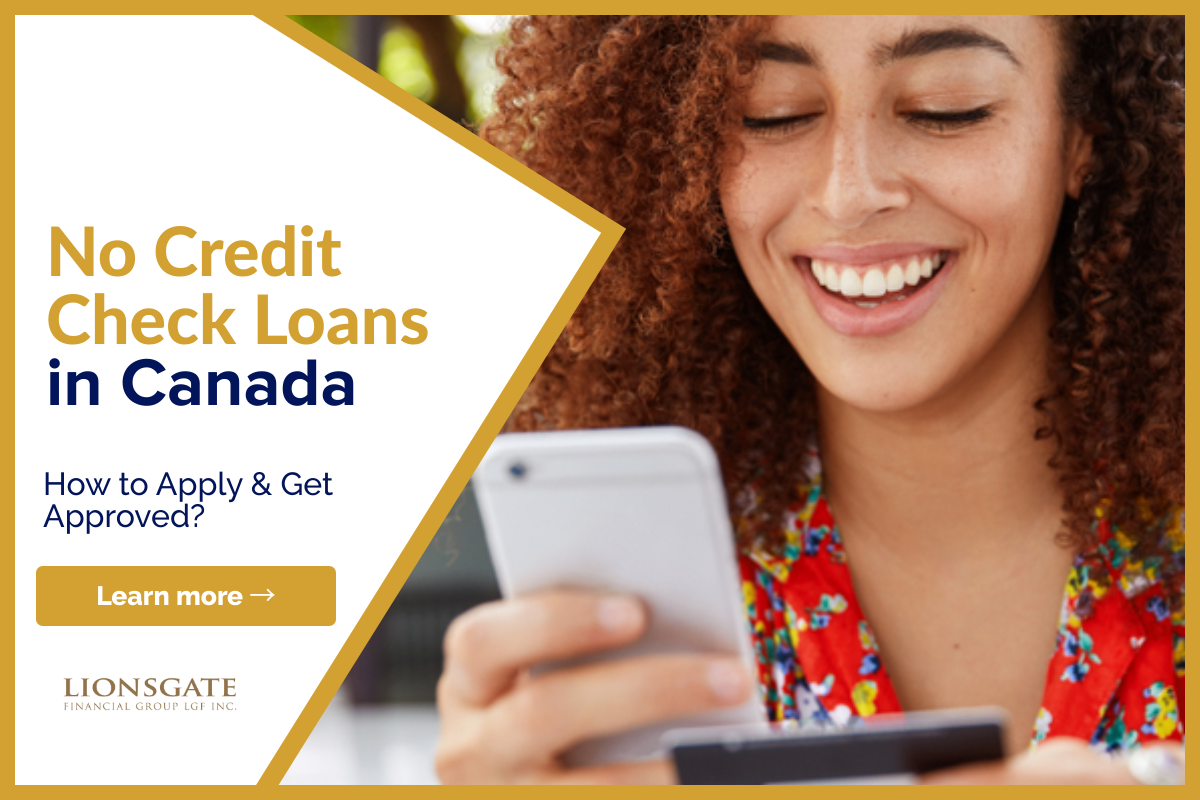 No Credit Check Loans in Canada
Now you can listen to our blog, "No Credit Check Loans in Canada", while on the go.
Do you still wonder are there any loans with no credit check? Is there any way to get a loan with no credit check? How do no credit check loans work? If yes, then continue reading this guide as we are about to learn about everything about no credit check loans in Canada.
Canadians can secure financing with a no credit check loan and with a bad credit score. Here is a complete guide on how to get a no-credit-check loan in Canada.
What will you do if your home needs a renovation on an urgent basis or you need emergency dental surgery but lack financial resources? Taking out the loan is the only solution. However, if the thought of a financial institution pulling your credit score makes you want to pull up the bed covers, there are other options: Take the no credit check loans.

Before delving into the resources on where you can get a no credit check in Canada, let's first understand what a no credit check loan is and how it works.
What is a No Credit Check Loan?
No credit check loan, as the name suggests, is a type of loan which gives you financial assistance without asking for your credit score. If you need urgent cash and cannot qualify for personal loans due to bad credit, a no credit check loan will protect the rating you have.
It is important to mention here that a no credit check lender does not run a check on your credit score to assess your creditworthiness. If you go to a traditional lender, a hard inquiry on your credit score by a financial institution can reduce your score further.
Read: EasyFinancial Get Short Loans With Bad Credit
How Do No Credit Check Loans Work?
No credit check loan companies in Canada use other methods to assess your current finances, like your income and the amount of debt you already carry. Depending on the lender you use and the application process, you will be required to provide proof of income and access to bank or e-bank statements. With this, they can assess your debt-to-income ratio. Once this is done, they will then build an internal report based on a snapshot of your finances to decide if they will approve your loan.
Once you know what no credit check loan is and how it works, it is now time to move to the providers and where you can get these no credit check loans in Canada.
Where to Get No Credit Check Loans in Canada
There are three main lenders in Canada which provide these types of loans. Below we have discussed each in the detail.
LendingMate
LendingMate can provide as much as $10,000 to anybody with no credit check. But this is not for the bankrupt or for the one in an active consumer proposal. You will need to provide a suitable guarantor, which can be a friend or a family member that have the trust that you will make payments on time. The approval rate here is higher – approximately 95% – and you can receive funds within 24 hours as well.
One of the major advantages of going with LendingMate is that it never charges fees, including the late penalties. If you are late, no problem! Just send a text as a reminder, or follow up by phone and email before going to your guarantor.
The duration of a loan runs anywhere from 12 months to 60 months, LendingMate also promises never to charge extra for making additional payments or paying your loan offer earlier.
Here are some of the notable features of LendingMate.
No credit check loans between $2,000 and $10,000
The loan transfer within 24 hours
No hidden fees or charges
Friendly approach to application and repayment
Must be a Canadian resident between the ages of 19-75 years to qualify
LoanConnect
It is an online search engine that finds the best loan options for you. With a single search, it can connect you with multiple borrowers in as little as five minutes. It gives unsecured loans between $500 and $50,000 without a hard credit check. The repayment period is between 12 to 60 months. Once you apply online and formally submit an application with the lender of your choice, the funds will be transferred to your account within 12 to 24 hours.
LoanConnect accepts applications from people with outstanding loans that do not total more than 60% of their current income, with a consumer proposal, or bankruptcy on their credit report. Bear in mind that when applying for a loan, you can be charged a loan origination fee from the lender of around $100, which will be included in your monthly repayments.
Here are some of the notable features of LoanConnect.
No credit check
Offer unsecured loans up to $50,000
Multiple loans offers are available in under one minute
Loans provided within 24 hours
Accepts applicants with a consumer proposal or bankruptcy
To apply to this, you should be a Canadian resident and the age of majority in your province of residence. Finally, note that you can get accepted here even if you have an active consumer proposal or bankruptcy.
Lionsgate Financial
Lionsgate Financial is the largest network in Canada and has established its links with many top banks, lending institutions, and private lenders. It usually does not lend money but connects borrowers with the most suitable loan options according to their needs. If you are searching for a single search platform that can help you find multiple lenders and the best solution for your needs, Lionsgate Financial is for you.
You May Also Like: RRSP Loan: Is RRSP Loan worth it?
The Bottom Line
Canadians with a poor credit score who cannot secure a personal loan through one of the big banks can benefit from applying for a no credit check loan. With more Canadians becoming a part of the gig economy, no credit check loan companies are a welcomed option for people who do not have the same level of financial background as their parents.
At Lionsgate, we specialize in helping people obtain funding private mortgages for land purchases as well as for other real estate transactions. If you are looking to buy land in Canada, get a mortgage or apply for a loan, leave us a message and we will try to connect you with local realtors and sourcing for financing.