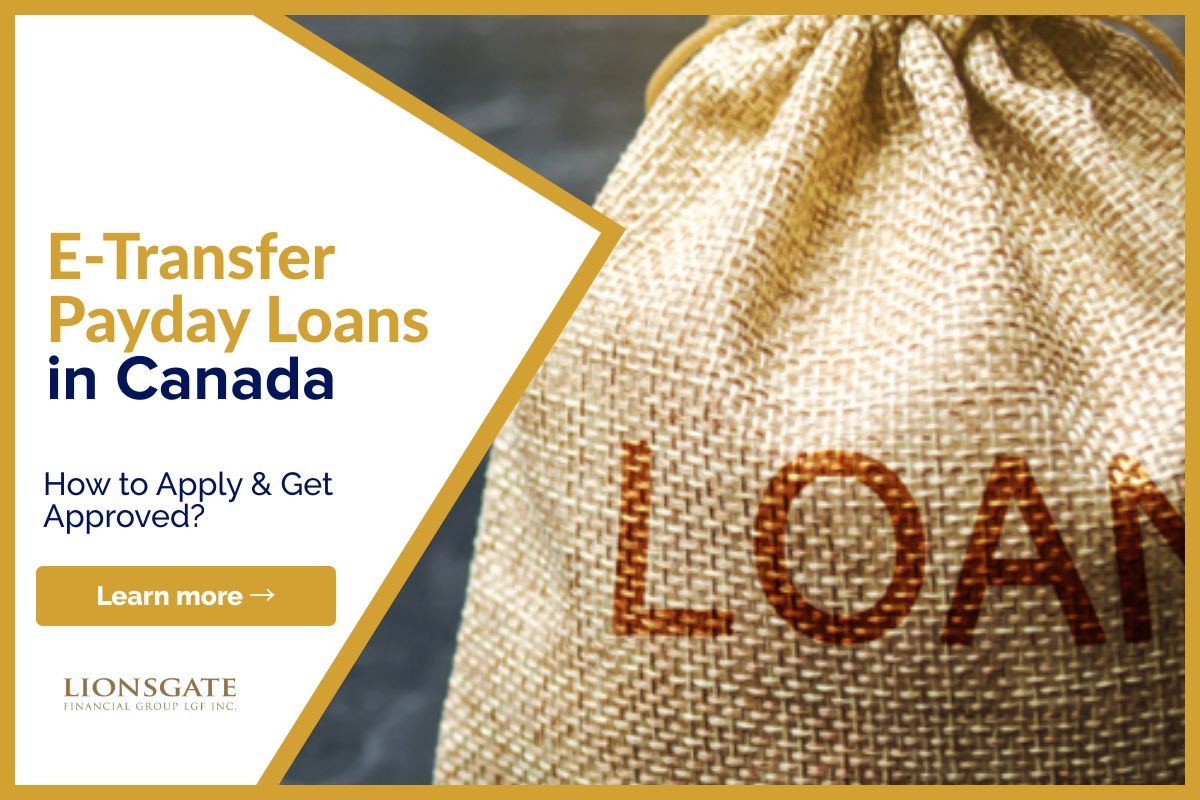 E-Transfer Payday Loans in Canada
Now you can read our blog, "E-Transfer Payday Loans in Canada", while on the go.
With endless opportunities to earn a living, Canada is a beautiful and happy country to live in. However, with COVID-19 fear and nationwide lockdown, there are many Canadians who are facing financial uncertainty today.
According to Global News, Canada can face recession in the coming times if COVID-19 stays long. With all fighting with the risks of the second wave of this pandemic, it is true that surviving and managing the expenses has become more difficult now.
Add to this the fact that most of the time financial issues come to our life when we are not ready for them. Due to these financial instabilities, our situation becomes worse. To cope with this, an effective solution to overcome such critical circumstances is required.
For this, one effective solution can be e-transfer payday loans that provide enough cash to recover you from such financial hardship. With this, e-transfer payday loans are becoming more and more popular in Canada.

Before moving forward, it is important to note here that Payday loans are not for everyone. They are only helpful in certain circumstances. Many people criticize these loans for how add salt to the injury, but it is also true that these loans solve different hardships for the people as well. So, before making any decision, make sure you know whether these loans are for you or not.
If you too are confused and want more insight on e-transfer payday loans in Canada, then continue reading as we discuss this in detail.
How Does e-Transfer Payday Loan Work?
E-Transfer is a modern approach to payday loans online. Unlike traditional banking loans, you can get your funds through Interac e-Transfer. These loans are meant to provide more speed, accessibility, and convenience to the applicants.
In order to access the instant e-Transfer payday loans in Canada, a computer or your smartphone enabled with an internet connection is enough. The loan process is similar to regular online payday loans in Canada, and the application can be completed at any time.
How long do e-Transfer loans take?
Loan decision does not take too much time on Instant e-Transfer loans because of no credit check procedure. Interact e-Transfer is a Canadian funds transfer service providing between personal and business accounts to participating with Canadian banks and other financial institutions, offered by Interac Corporation.
With such guaranteed payday loans, you can get your funds no matter where you are in Canada. You can get your funds through a simple loan application that takes only 2-3 minutes to complete. Also, you can get all the funds within few minutes with the e-Transfer. It is also known as Email Money Transfer (EMT).
Who Should Get These e-Transfer Loans?
E-Transfer payday loans can be used by anyone who wants urgent and fast cash. Although people with low credit and bad credit are more likely to get these loans, people with no credit can also get their approval fast. The e-transfer payday loans in Canada are also good for low-income households.
If you have a good credit score, you can apply to traditional lenders and there is no need for you to go for these bad credit loans. However, if your credit score is not good, the chances of getting loans from banks become absolute. In such a situation, an e-Transfer loan with no credit check can be your best option that allows people to get funds without worrying about their credit score.
Here are some of the most common signs to tell whether you should get e-Transfer loans or not.
Paying back the credit card bills to avoid high-interest debts
Getting loan approval in case of having bad credit
Renovating or home repairing
Paying the car repair expenses
Replacing dental fees
Paying medical bills in emergencies
Paying college or school fees and other educational expenses
Want to avoid begging for money in front of friends and family
Once you know what e-Transfer loans is, how it works and who should get it, it is now time to delve into the procedure of getting the loans.
How to Get e-Transfer Loans?
Due to very high competition and high-intensity loan scams, it is indispensable to find out a trustworthy and reliable payday loan lender. If you want to enjoy all the privileges of borrowing money, you can choose Whizz. They are the best platform to provide the solution to all your financial problems.
To get the loan, it is very important you understand their work. You can go to their online portal, and fill out your application. This application will go through more than one lender for check and review. With only a single loan application, you can get a lender that offers a suitable loan for your needs. This not only ensures you will get the loan but saves a ton of your time as well. The application process is simpler and you won't need any financial expert to do this for you.
Before filling the application, make sure you meet the eligibility criteria of e-Transfer loans:
The applicant must be over 18 years
A Canadian citizen with a valid address
Have a regular source of income
Have a Canadian bank account that accepts direct deposit
With a valid mobile number and email address to receive notification
Application not exceeding the amount you need
It is important that you borrow the amount according to your requirements. It is your responsibility to borrow the minimum amount which is according to your need. If you lend more money than you actually need, it will cast consequences on your credit score or even indulge you in a debt cycle. That is why it is advised to make a wise financial decision.
You May Also Like: EasyFinancial: Get Short Loans With Bad Credit
The Bottom Line
If you have the right reasons to afford your loan, then an e-Transfer payday loan can work wonders for you. Such online payday loans work as the best alternatives to cash help during your financial hardship, especially when you are in Canada.
At Lionsgate, we specialize in helping people obtain funding private mortgages for land purchases as well as for other real estate transactions. If you are looking to buy land in Canada, get a mortgage or apply for a payday loan, leave us a message and we will try to connect you with local realtors and sourcing for financing.