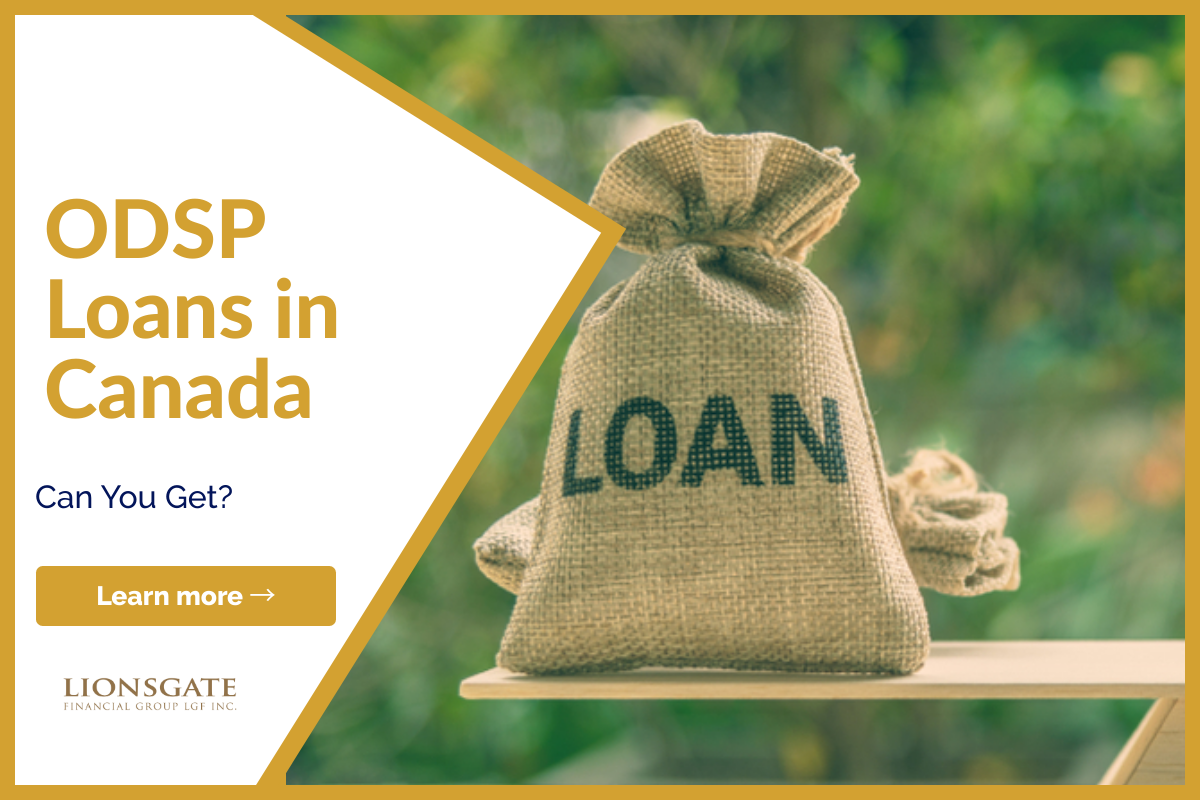 Now you can listen to our blog, "ODSP Loans: Can You Get?" while on the go.
Individuals who receive their income from the Ontario Disability Support Program can apply for ODSP payday loans. These are offered by lenders who accept government-sponsored programs as a primary source of income for applicants.
If you're an Ontario resident with a disability, you're undoubtedly already familiar with the program. The Ontario Disability Support Program (ODSP) was developed to help persons who are unable to work and earn a consistent income due to a disability. It provides grants to help people with physical or mental disabilities meet their basic requirements, such as shelter, food, clothes, and medication.
It is important to mention here that to be eligible for ODSP, your condition must be evaluated by a doctor. He'll confirm your handicap and discuss how it affects how you go about your regular routines. Following that, a caseworker will be assigned to your case and will walk you through the next processes as well as calculate the amount you are qualified for.

Despite being a necessary resource, that monthly amount can be insufficient in some cases, particularly when unforeseen costs force you to make a decision. Payday loans for ODSP recipients can help in this situation. A private money lender can assist you in obtaining funds to assist you in overcoming your financial difficulties.
In Ontario, ODSP payday loans work in the same way as other payday loans. After you submit your application, it is reviewed, and if you are approved, you sign the loan contract and receive the funds the same day. After you've paid for your immediate needs, you'll have to repay the loan with your next ODSP payment.
ODSP recipients in Canada can use e-Transfer payday loans to borrow an amount that will cover the most pressing expenses. If you apply for a loan with us, you can get up to $1,500 that you can use as you wish.
The good news is that ODSP participants are subject to the same laws as everyone else when it comes to payday loans. After all, your government stipend is a stable and consistent source of income. The amount you can borrow is, of course, determined by your total income and ability to repay the loan.
Your ODSP payment must fulfill the lender's income requirements in order to apply for payday loans in Ontario. If your government benefit is insufficient, it might be supplemented with additional sources of income.
Loans from the ODSP
Once your ODSP loan has been approved and you have received the funds, you are free to use them as you see fit. These are the primary reasons people choose ODSP loans to get a notion of what you can achieve with these funds:
• One of the most popular reasons people seek loans is for an emergency. Unexpected expenses might arise at any time, regardless of your source of income. With so many things that may go wrong at any time, having a backup plan is essential.
• Managing your monthly budget while unemployed – if you are unable to work due to a temporary disability, managing your monthly budget might be difficult at times. A quick loan can help in these situations. Even if your health allows you to work part-time, doing so isn't always straightforward. Finding suitable employment may take longer than anticipated, and bills and other obligations may exacerbate your financial difficulties. A cash advance loan can assist you in meeting your immediate financial needs. That way, you'll be able to keep paying for your laptop or internet, which you'll need to get a job more quickly.
• Home repairs — a burst plumbing, broken appliances, or an electrical problem should not be ignored or put off. In some situations, failing to respond to a matter in a timely manner can result in a worse situation, including health and safety concerns for your family. People on ODSP can get loans from private lenders to help them pay for these necessary repairs.
• Insurance and warranties do not usually cover car repairs. It can happen as a result of an accident or as a result of just replacing some parts to keep your car safe to drive. When you need money for maintenance or emergency repairs, ODSP loans can help you out.
• Medical bills are a significant expense, and your monthly budget isn't always prepared for such costs, especially when you're on ODSP. The socialist healthcare system does, in fact, pay these expenditures to some level. Even so, you'll have to deal with a lot of bills on your own. You may be required to pay for additional dental, vision, or pharmaceutical services. In such situations, emergency loans in Canada are extremely handy.
• Vet bills are another high and important cost that you cannot postpone. When your pet is sick or gets injured, you have to handle it right away. Unlike your medical bills, your healthcare plan won't cover them. Fortunately, loans in Ontario for disability recipients can help you make sure your pet is healthy again.
Read: Payday Loans for Unemployed in Canada
• Childcare expenses are a significant challenge for parents in general, and even more so if you are on ODSP. Every parent knows that raising a child comes with many costs every step of the way. Even the basic things your child needs add up to a substantial amount. Sometimes, a quick loan can give you the extra money you need to make sure your child is well cared for.
• Legal fees can also be an issue and an additional cost you aren't prepared for and cannot delay. Whatever unpleasant situation led to your legal trouble, you need a good attorney to make sure it goes in your favor. ODSP loans can help you receive adequate legal representation.
• Debt consolidation can be the solution when you owe money to multiple creditors. Interest rates add up to a concerning level, turning your monthly budget into a nightmare. By taking a payday loan, you can merge all those debts into one payment, one interest rate, and less stress every month.
ODSP loans in Canada can be used for any necessary expense that you cannot delay. They offer the possibility to get a cash advance on your ODSP payment, making it easier to handle your budget.
Online Payday Loans for People with Disabilities in Ontario
Online payday loans for Ontarians with Disabilities are short-term loans that can be obtained quickly and easily through an online application. They are short-term loans that you can utilize to cover unexpected expenses and then repay with your next paycheck.
Their main benefit is the quick and painless application and approval process, which makes them excellent when time is of the essence. People who rely on ODSP for their monthly budget can apply for payday loans online.
They have the advantage of not requiring the applicant to visit a loan business in person, in addition to accepting ODSP funds as an income source.
If you live in Toronto and obtain ODSP, internet lenders can help you get out of a lot of trouble. 'How do you find the best online payday loans that accept ODSP?' remains the question. The answer is simple: do some research to ensure you choose a reliable lender.
iCASH is one of the most reputable private lenders in Canada. Our online payday loans for ODSP customers in Ontario tick all the boxes. Let's go over the perks you get with us for loans while on government benefits to help you make your list of things to look for when picking an online lender.
First and foremost, you will receive immediate approval. When you apply for online personal loans, you won't have to wait days to find out if your loan is accepted. After you submit your application, our system will immediately examine it and respond to you. Because of the flexible conditions, there is a good possibility of acceptance.
Furthermore, you can apply from any location. You won't have to leave your home to visit a lender's branch. You can do it from the comfort of your own home if you have a gadget and an internet connection. It will take you about ten minutes to complete.
You can apply at any time of day or night because everything is done online. Our loans are available 24 hours a day, seven days a week, including weekends and holidays. When an emergency arises, you can apply, get approved, and receive the funds.
Another significant benefit of applying for ODSP loans online is that no paperwork is required. Online private lenders, unlike traditional lenders, merely require an online application and no further documentation.
Another big benefit is that if your request is approved, funding is available the same day. If you choose an e-transfer, we can have the funds available in as little as a few minutes.
Another benefit and guarantee you get when dealing with trustworthy lenders is the security of the entire transaction. Your personal information is kept safe at all times, from the application through the receipt of funds and repayment.
The Bottom Line
Finally, but certainly not least, the system is extremely user-friendly. However, if you have any more questions or concerns, customer service will be happy to help you with any element of your loan.
As you can see, ODSP online loans in Canada are only a few clicks away and come with a slew of advantages. When a disability hinders you from easily carrying out your everyday duties, taking advantage of technology is especially crucial.