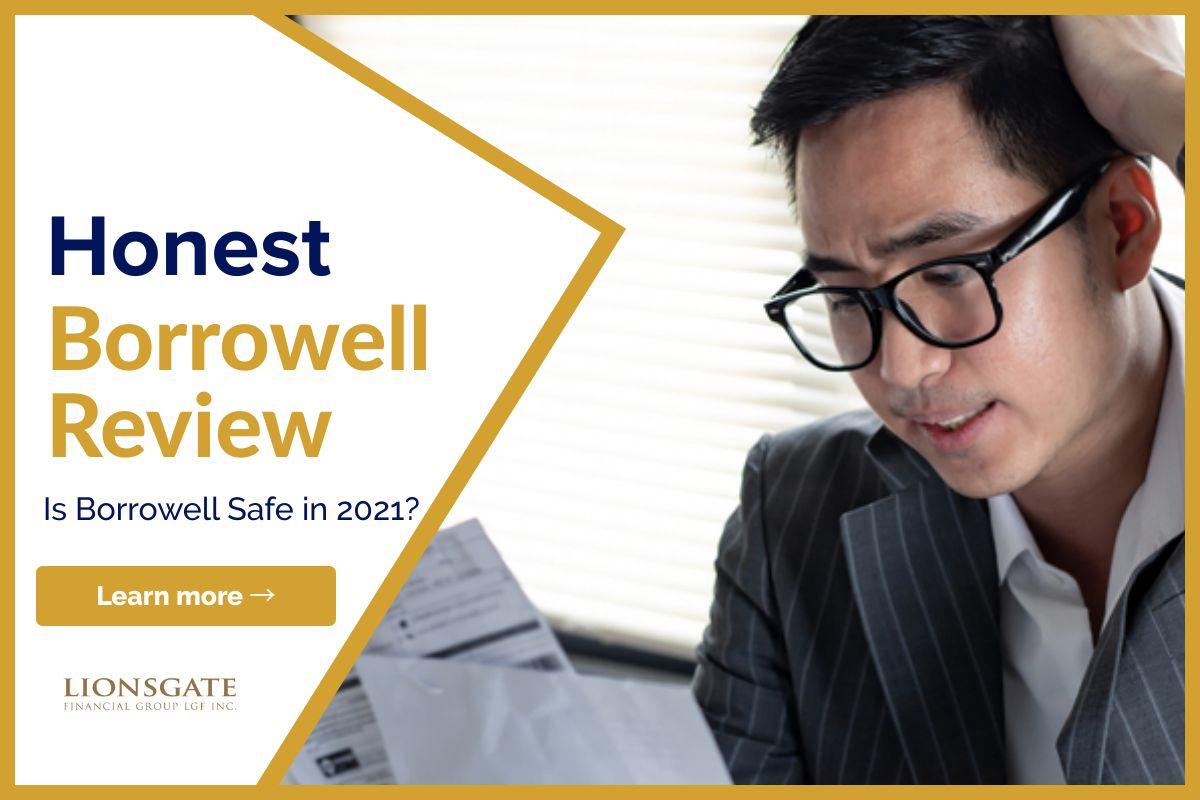 Borrowell Review: Is Borrowell Safe in 2021?
Now you can listen to our blog, "Borrowell Review: Is Borrowell Safe in 2021?", while on the go.
Getting your credit score in Canada used to be quite costly, costing around $20 each time you needed to check it. Borrowell, a renowned Canadian fintech firm, changed all of that in 2016. They partnered with Equifax to provide Canadians with free access to their credit score for the first time ever!
They began offering free credit reports, as well as a variety of other personal financial services that assisted Canadians. For a brief word, Borrowell is a digital lending platform for unsecured loans up to $35,000. It also offers a free credit score and report.
What is Borrowell?
Borrowell is a Canadian digital (online) lender that offers low-interest personal loans to people looking for a general loan. The company is situated in Toronto and has been in operation since 2014.
Borrowell has the support and partnership of several well-known brands. These include CIBC, BMO, EQ Bank, Scotiabank, National Bank of Canada, Capital One, Wealthsimple, and MBNA. They also have a management team of well-versed and experienced employees.
Since launching their free credit score service in 2016, the site has been utilized by over 1.5 million Canadians. Primarily, it was used to obtain free credit ratings. It was the first firm in Canada to offer free credit ratings. They also invented Molly, Canada's first AI-powered Credit Coach, who shares credit-building suggestions with Borrowell consumers.
Borrowell's Product Offerings
Borrowell is a one-stop shop for personal loans, mortgages, credit cards, insurance, banking products, and other financial services. Here are some of its notable offerings:
Get a free credit score and report
Borrowell is one of Canada's most popular free credit score providers. The Equifax Risk Score 2.0, which runs from 300 to 900, is the free credit score they offer. Your full Equifax credit report is included in the free credit report you receive.
Borrowell's credit score and report are updated weekly, allowing you to simply check your credit record for any inaccuracies or fraudulent activities. This saves you the money you would have spent on this service if it were supplied by a credit agency like TransUnion. Your credit report is also available to print or download at any time.
Personal Loans with Low Fixed Rates
Borrowell provides a "low-interest" personal loan to Canadians who need an unsecured loan quickly or need to find loans from alternative lenders to consolidate debt.
It works with a number of lenders, and you may compare rates to find which one is best for you. In general, the interest rate you are eligible for is determined by your creditworthiness (credit score and history).
Borrow up to $35,000 with fixed rates ranging from 12.99 percent to 46.96 percent and durations ranging from 6 to 60 months.
In general, they provide loans to people who:
Canadian citizen or a permanent resident
Have a credit score of 660 or higher
Not declared bankruptcy, been placed in collections or filed a consumer proposal
Have at least a one-year credit history
Have a Canadian bank account
Borrowell offers a variety of lending options, including vehicle loans, business loans, debt consolidation loans, large purchase loans, home renovation loans, and more.
Debit and Credit Cards
Borrowell also has a comparison site for several types of credit cards, such as:
Cards that give you money back
Travel Cards
Low-Interest Rates Cards
Cards with Benefits
Cards for transferring funds between accounts
You can compare credit card annual fees, interest rates, card features, and more on their comparison site.
Mortgage Interest Rates
Borrowell provides a platform for comparing mortgage rates and financing possibilities if you are in the process of purchasing a home and are looking for the best mortgage rates available. They also include mortgage calculators and other tools to help you with your house purchase. You also get access to your credit score as well as advice on how to improve it.
Insurance and Other Concerns
Borrowell allows you to compare vehicle and home insurance prices online. They also provide a variety of banking products from reputable financial organizations, such as savings, chequing, and investment accounts.
Members can use two new products from the corporation to remain on top of their finances, including:
Bill Tracking: This free application keeps track of up to 15 bills for you and gives you reminders so you can pay them on time.
Borrowell Boost: This membership service keeps track of an infinite amount of invoices, and you can get a $75 cash advance with no interest if you need it to pay your payments.
Is Borrowell Safe and Legit?
They "use the same level of encryption as the big banks to ensure your information stays safe," according to its website. It protects your personal information with 256-bit encryption.
They use the personal information you provide when you sign up to make your personalized financial product suggestions, such as credit cards, mortgages, and so on. To share any of your information with external providers, you must always give your permission.
Will my credit score be affected if I check it?
No, checking your credit score has no bearing on it in any manner. When you check your credit score, it is called a "soft inquiry," which has no effect on your credit score and does not appear on your credit report.
Is Borrowell's credit score correct?
Equifax's proprietary model determines your credit score when you sign up with them (Equifax is one of two major credit bureaus in Canada). Other third parties may use a different formula to determine your credit score.
You May Also Like: No Credit Check Loans in Canada
Conclusion
Borrowell is a market leader in online lending, but they are not alone. LoanConnect and Mogo are two of their competitors. Borrowell's free credit score and report can save you hundreds of dollars per year in credit monitoring costs, as well as the peace of mind that comes with knowing you're on top of your money.
Knowing your credit score is important not just for your general financial health, but it can also help you avoid being a victim of fraud, such as identity theft.
At Lionsgate, we specialize in helping people obtain funding private mortgages for land purchases as well as for other real estate transactions. If you are looking to buy land in Canada, get a mortgage or apply for a loan, leave us a message and we will try to connect you with local realtors and sourcing for financing.